How Sharp is Your Brain?
Improve Your Brain Health & Keep Your Memory Sharp with eyeQ™!
It's time to stop worrying about your mind slipping away. Now you can keep your mind as sharp today as you were in your 20's. eyeQ Brain and Reading Enhancement Program will improve your reading skills, comprehension and memory.  Improving your memory and staying mentally sharp is one of the most important gifts we can give ourselves.
eyeQ's Brain and Reading Enhancement Program provides science-based tools to measure, track, and improve your brain health. Designed to be fun and effective, you never have to stop learning with eyeQ. We are so confident that you will see an improvement in brain health and memory that we back it up with a 90 Day Performance Promise*.
Stay sharp, keep learning with eyeQ™.
Just 7 Minutes a Day Can Help You Optimize Your Mind.
Using the eyeQ™ Brain and Reading Enhancement Program will help you strengthen your reading, memory and comprehension skills, developing a sharper mind as you age.
The daily online eyeQ™ training exercises will take only 7 minutes to complete and can be accessed by any device with an internet connection. You can work at your own pace, mastering each new concept before moving on.
With each lesson, you'll be shocked at how fast your mind and comprehension skills are increasing! Many eyeQ™ users ultimately find themselves seeing improvement in mental performance in as little as a week.
Grant loves eyeQ™. Here's why…
Grant wanted to improve his reading and keep his mind sharp. He used eyeQ to help keep his mind young.
Grant Beutler
eyeQ™ by the Numbers
We're serious about tracking progress. Our unique reporting tool tracks your students improvements from the start. These charts show actual improvement in national test scores after using eyeQ just 10 weeks. (Results are from a grade school with significant diversity).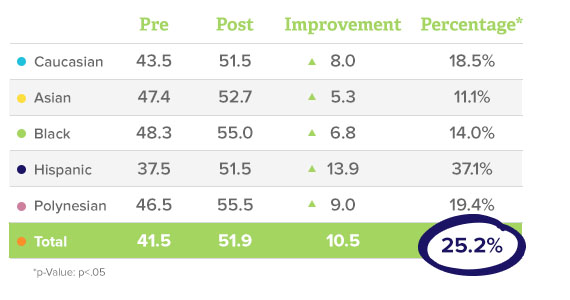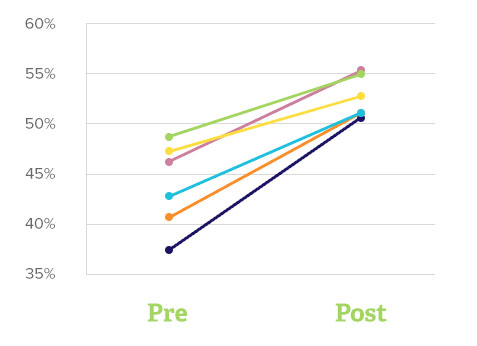 Total sample experienced enormous & significant improvements.

All ethnicities outpaced caucasian students at the post examination or closed the gap.

Hispanic & Polynesian students outpaced Caucasian improvements.
Improving Your Brain Health and Memory Begin with eyeQ™
Experience the Power of the eyeQ™ Brain and Reading Enhancement Program Risk Free!