Attention College Students and Parents…
Take advantage of over 30 years of proven results and optimize your college experience today!
Congratulations on getting accepted into college. That is an achievement in itself – BUT just getting into college doesn't equal success in the long run. Parents, you want your kids to be successful, and students want to be successful as well. To be successful in college you need to stay ahead of your studies, comprehend course material and score amazing on exams. There is only one program that is scientifically proven to help you accomplish these goals – eyeQ™.
eyeQ™ Brain and Reading Enhancement Program will improve your reading skills, comprehension, and memory. In a recent study, students using eyeQ™ improved their test scores by 20%-30%*. eyeQ™ will help you to optimize your time and college experience. Improving your reading and learning skills is one of the most important skills a student can possess.
College education is expensive. eyeQ's Brain and Reading Enhancement Program will not only maximize your investment in your education but also in life beyond school. We are so confident that you will see an improvement in your reading and learning comprehension that we back it up with a 90 Day Performance Promise*.
Just 7 Minutes a Day Can Provide a Lifetime of Advantages
Using the eyeQ™ Brain and Reading Enhancement Program will help build and advance your reading and comprehension skills, giving you a huge competitive advantage in college and beyond.
The online eyeQ™ training exercises will take only 7 minutes to complete and can be accessed by any device with an internet connection. You can work at your own pace, mastering each new concept before moving on. With each lesson, you'll be shocked at how fast your reading speed and comprehension skills are increasing!
Many eyeQ™ users ultimately find themselves reading and understanding subject matter that's way ahead of their peers. eyeQ™ users at the college level are seeing dramatic improvements in test results, scoring 20% – 37% higher!*
College Students Love eyeQ™. Here's Why…
Every college student wants to be successful. This means scoring high on tests, comprehending course subject material, and optimizing study time. eyeQ™ users at the college level are seeing dramatic improvements in test results, scoring 20% – 37% higher!
eyeQ™ by the Numbers
We're serious about tracking progress. Our unique reporting tool tracks your student's improvements from the start. These charts show actual improvement in national test scores after using eyeQ™ just 10 weeks. (Results are from a grade school with significant diversity).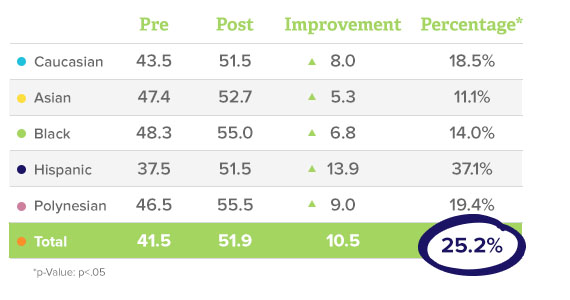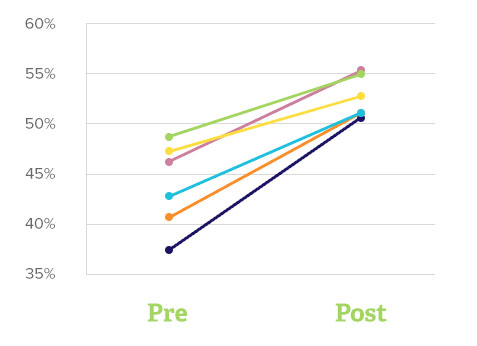 Total sample experienced enormous & significant improvements.

All ethnicities outpaced caucasian students at the post examination or closed the gap.

Hispanic & Polynesian students outpaced Caucasian improvements.
Your College Success Begins with eyeQ™
Experience the Power of the eyeQ™ Brain and Reading Enhancement System Risk Free!