We know everyone has those busy days where the last thing you want to do when you get home is cook a giant meal for the family! Which is why we LOVE crock pot recipes! What do we love even more? Crock pot recipes that not only taste amazing, but are good for your brain! So for today's Monday Mind Chow we bring to you a crock pot recipe for Coconut Cashew Chicken. Courtesy of Mai-Lis over at A Sunshiny Day blog.  This is simple to make and one recipe your taste buds will thank you for later!
Crock Pot Coconut Cashew Chicken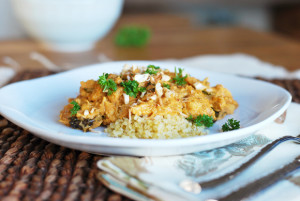 Ingredients
1.5lb boneless chicken breasts
1 Large onion (diced)
14oz light coconut milk (canned, unsweetened)
3/4 cups raw unsalted cashews
2 tablespoons tomato paste
1 tablespoon minced garlic
2 teaspoons low sodium soy sauce
1/2 teaspoon garlic powder
1/2 teaspoon onion powder
1 teaspoon turmeric
1/2 teaspoon worcestershire sauce
tabasco (to taste)
Directions
1. Cut your chicken into small pieces. Place the chicken & onions into your crock pot. Season well with salt and pepper.
2. Add the remaining ingredients into your blender and blend until smooth. Pour it over the chicken and cook on low for 6-8 hours or on high for 3-4 hours.
3. Serve over your favorite grain and garnish with toasted cashews and coconut.